Are you planning to appear for the PTE Academic, or have already registered for it?
If your answer is yes, then you ought to know that one of the most interesting question types in the speaking segment of PTE is the PTE Retell lecture question.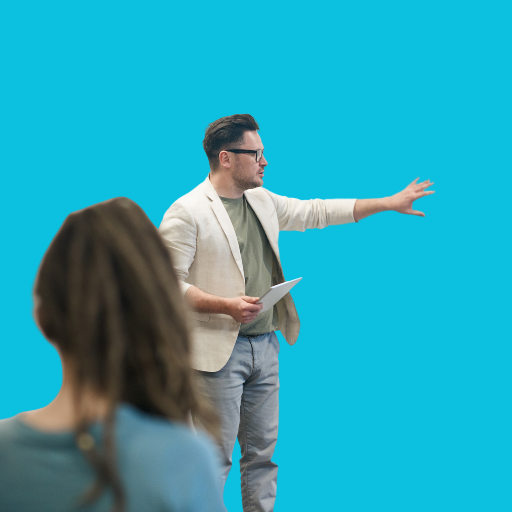 Needs tips and tricks to ace this section?
We have got your back!
Read ahead to learn everything about PTE Retell Lecture and some useful tips and tricks to help you ace the test!
About PTE Academic
The Pearson Test of English (PTE) Academic is a multiple-level test like TOEFL, IELTS, and TOEIC. This computer-based English language exam is designed for non-native English speakers who aspire to go abroad for work or education. The test examines your writing, speaking, listening, and reading skills.
PTE questions typically assess two skills together, such as reading and listening or speaking and reading. The entire test is completed in a single session that lasts for three hours and is conducted in a secure test environment on a computer.
About PTE Retell Lecture
The PTE academic includes question types that imitate real-life settings faced by people working or studying or working in an English environment. As discussed above, one of the most interesting and even challenging question types in the Speaking segment of PTE is the PTE Retell Lecture question.
Imagine you're attending a university lecture or a seminar. A friend or coworker was supposed to participate in it with you but couldn't due to any reason. Later, when you meet that person, he/she asks you to tell them about the lecture or seminar. In a nutshell, that is what the retell lecture question of the PTE is all about.
You'll hear audio of a lecture and then will have to retell it or, in other words, define what it was about. How well you score in this question depends entirely upon your ability to comprehend and listen to spoken text and also on your ability to provide a well-structured response encompassing the key points from the audio.
This sounds like a formidable task for many test aspirants, but you'll soon witness that with ample preparation and correct guidance, you can do remarkably well in this question type.
Salient concepts of the PTE Retell Lecture
| | |
| --- | --- |
| Number of questions | Three to four |
| Negative marking | No |
| Scoring | Contributes to Speaking and Listening scores |
| Time to answer | The lecture plays after three seconds. Once it ends, you'll have ten seconds to organize your answer and then another forty seconds to record your response. |
The ideal way to approach Retell Lecture questions is to treat them like regular work or classroom conversations. Do not stress about encapsulating each and every trivial bit of information from the audio. As long as you're able to comprehend and remember the key idea and a couple of essential points, you'll do just fine.
Most of the time, you'll have a picture accompanying the audio. Nowadays, Pearson has also begun providing video lectures. In either case, you will have a visual representation of the lecture beforehand to look at and apprehend what the lecture might be about. Do not ignore it! Even if you receive a little hint about the lecture, it'll help you pick up the information much better.
Most British and American universities have uploaded some of their lectures on their websites as free podcasts. These are excellent sources for daily practice. For example, you can check out this outstanding podcast series from Yales.
Method to follow when solving a PTE Retell Lecture question
Look at the image and try to predict what the lecture will be about. The image also comes in handy when you are not able to comprehend anything at all from the audio lecture. In such a scenario, you can generate some statements centered around just the lectures visual representation.
Once the lecture starts, you must listen attentively and try to understand the core theme and the key points.
Always make sure to jot down notes – all you need is two to three good points to produce a good response.
Look out for terms and expressions that refer to a place, person, event, thing, incident, etc. Expressions that specify a relationship between different parts, an example, or the starting of an explanation are also important. What are these expressions or terms? Some of these are: therefore, because, but, however, for example, for instance, finally, firstly, secondly, etc.
Once the lecture ends, you'll have ten seconds to organize your answer before speaking. Having a Retell Lecture PTE template in mind can help you to swiftly organize your response.
If you already know how to start the first sentence, how to include key points in between, and how to end your answer, you'll more likely be able to deliver a well-structured answer quickly.
As soon as the microphone turns on, start speaking. Ensure that you speak confidently!
Focus on your fluency and pronunciation. Even if you have qualms about the content of your response, do not worry about it now.
Make sure to deliver a thorough, structured reply within the time provided to you.
6 PTE Retell Lecture tips & tricks
The major mistake that most PTE test aspirants make in this question type is that they do not follow a well-defined strategy and method. Remember, you cannot leave it to chance!
Here are six PTE Retell Lecture tips & tricks that can help you maximize your score in this section.
#1: Do not keep repeating the same thing over and over again
Make sure you have two to three solid points and then talk about them appropriately in your response. Keep in mind that you do not require too many points to attain a good score.
Additionally, you should also make sure that you do not keep repeating the same point again and again. The only exception is when you do not have anything else to speak about. In that scenario, definitely reiterate the point, but if possible, in diverse ways.
#2: Have a Retell Lecture PTE template in mind
To ace this question type, always have a well-defined structure in mind beforehand that can help you deliver a good response quickly. Try to practice speaking the introductory sentence and the closing sentence again and again.
During the test, if you spend too much time thinking about organizing your answer, how to start, how to connect, or how to close, it'll clearly reflect adversely in your response.
Moreover, it will also affect your fluency and hinder the flow of your response.
Example of a Retell Lecture PTE template
The speaker was discussing…. ( insert topic)
1st statement: He/She mentioned…. (insert key point 1)
2nd statement: He/She described…. (insert key point 2)
3rd statement: He/She talked about…. (insert key point 3)
4th statement: He/She discussed …. (insert key point 4)
5th statement: He/She suggested that…. (insert key point 5)
#3: Deliver a well-structured answer within the time limit
While responding to the lecture, it might be easy to lose track of time, but you must always keep an eye on the timer. When you see time running out, try to move to the closing statement instead of speaking only half a point. It's essential to exhibit that you know how to initiate and conclude an explanation.
You can find numerous free and paid PTE retell lecture samples online. Make sure to practice as much as you can to ace the test!
#4: Focus more on pronunciation and fluency
You should not worry so much about 'what to speak' that you entirely forget about 'how to say' it. Therefore, keep your reply simple and do not dig out every single idea that might seem vital. Try to follow a simple yet effective approach by focusing on delivering a well-spoken response properly.
#5: Make use of the visual queue
Often the image accompanying the audio lecture can give you some hints regarding the content of the audio. If you find the audio very arduous and difficult to understand, you can also speak a few points based just on the image.
Hence, do not ignore it and make sure to look at it while listening to the audio. Try to comprehend how the lecture relates to the image. Doing this will help you to understand the core topic much better.
#6: Keep some filler sentences ready
This goes hand-in-hand with the use of well-structured templates. While practicing for the test, prepare some generic sentences to use in your Retell lecture replies.
In cases when you cannot think of anything else to speak, you can use these filler statements. For example, 'The lecture provides very insightful information related to the topic in question.'
You can always head to the web and explore the myriad of PTE Retell lecture practice questions online. Here is a great example of the correct response.
Developing Critical Listening Skills:
Enhancing critical listening skills is essential for excelling in the Retell Lecture question. By actively engaging with the content, test takers can better understand the main argument, supporting evidence, and the overall structure of the lecture. This deep level of engagement allows for a more comprehensive and insightful response, showcasing the ability to analyze and summarize key points effectively.
Utilizing Discourse Markers: Discourse markers play a vital role in structuring the response and creating coherence. Test takers should pay attention to expressions such as "however," "therefore," "for example," and "in conclusion." These markers guide the listener through the lecture and help to connect ideas smoothly. Utilizing appropriate discourse markers enables test takers to present a well-organized and logically structured retelling of the lecture.
Developing Paraphrasing Skills:
Paraphrasing is an essential skill in the Retell Lecture question as it demonstrates comprehension and prevents repetitive language use. Test takers should practice restating the speaker's ideas using different vocabulary and sentence structures while maintaining accuracy. Effective paraphrasing showcases language proficiency and the ability to convey information concisely and engagingly.
Building Domain-specific Knowledge:
To excel in the Retell Lecture question, it is beneficial to develop domain-specific knowledge in various subject areas. Test takers can broaden their understanding by exploring articles, academic journals, or books related to fields such as science, technology, history, or social sciences. Acquiring familiarity with subject-specific terminology and concepts will enable test takers to grasp the lecture content more effectively, leading to a more comprehensive retelling.
Reflecting on Feedback and Self-assessment:
Engaging in self-assessment and seeking feedback is crucial for continuous improvement in the Retell Lecture question. Test takers should record their practice sessions and analyze them for clarity, coherence, and fluency. Reflecting on their performance allows them to identify areas for improvement and develop strategies to address weaknesses. Seeking guidance from instructors or experienced PTE tutors can provide valuable insights and tailored strategies to further enhance performance.
Final Note
PTE Retell Lecture is not as hard as you think it is; it certainly demands time, practice, and effort, but it's not impossible to achieve excellent scores in this test. Just make sure to take advantage of the PTE retell lecture samples, tests, and templates available online and PTE Retell Lecture tips and tricks to ace the test!
One last thing…
Whether you are teaching your students how to ace the PTE, teach slang, formal dialogue, grammar, or, anything in between, browse the rest of our blog section for a plethora of useful tips and tricks for whatever is in store for your next language lesson!