Jigsaw Planet is considered a generally safe website for users of all ages to create, share, and play online jigsaw puzzles. Here's a detailed breakdown of factors to consider:
Privacy: Jigsaw Planet has a privacy policy in place that outlines how it collects, uses, and protects user information. As is typical with many websites, it may collect data about your visits, usage patterns, and device or network information for operational and optimization purposes. It's important to review this policy so you're aware of what data is being collected and how it's used.
User Content: On Jigsaw Planet, users can create and share their own jigsaw puzzles using personal images. The site claims to take copyright laws seriously and expects users to only upload images they have the rights to use. That said, always be cautious about what you share online, and keep in mind that copyright enforcement is largely dependent on user compliance.
Adverts and Third-Party Content: Like many free online platforms, Jigsaw Planet is ad-supported. These ads can sometimes lead to third-party sites. Always be wary of clicking on ads if you're not sure of the content they're promoting.
Security: The website uses HTTPS, indicating that data transferred between your browser and the site is encrypted. This doesn't mean the site is invulnerable to all potential threats, but it does add a layer of security.
Kid-Friendliness: Jigsaw Planet is generally considered a family-friendly site. However, due to the user-generated nature of its content, there's always a small chance of encountering inappropriate material. If you have young children using the site, it may be a good idea to supervise their usage or check the puzzles first.
Reputation and Reviews: As of my last update, Jigsaw Planet had a good reputation among its users and in various online communities. However, as with any online platform, experiences can vary, and it's always a good idea to look at recent reviews or discussions about the platform.
What is Jigsaw Planet?
Jigsaw planet is an awesome website. Playing with puzzles and solving them on your own is a real challenge. Kids love to find the single last piece of the confusing puzzle, which completes the whole image. Puzzles have long drawn the attention of children and adults all over the world. Although there are so many categories to cover up in puzzles, the aim has always been to find out the single missing piece to finish it!
If you are willing to walk down the memory lane once again, www.jigsawplanet.com offers the most promising puzzles that you might be happy to solve. Each one of the puzzles is casual enough to engage in your free time. Even for kids, these puzzles act as the best brain training games that improve memory. The combination of awesome pictures is unique to the website and that is why it is favored by all. You will surely come across a lot more, once you step into the world of Jigsaw planet.
Features of the website:
Jigsaw Planet is entitled to provide one of the best experiences in terms of solving jigsaw puzzles. It stems from the idea of opening up a space that solely belongs to the puzzle solver. Any individual can visit the website, choose any puzzle they want to solve, and play for hours. Apart from the challenge of solving them one by one, the website is transparent and offers a flexible opportunity for completing day to day puzzle tasks. This initiative is undertaken only to attract more and more individuals on this platform.
Due to its great impact on the community of gamers, some of the best features of Jigsaw planet are as follows:
The website is full of creative puzzles under various broad categories. When you step in, you must choose the category first and then shuffle your choice.
You will not only love to solve the puzzles on your own but be amazed at the set of beautiful pictures that finally reveal the face of the puzzle.
There is more than one puzzle dimension to choose from. This is because of the wider scope of options given to players. Some of the common dimensions are 3*3, 3*4, 8*6, and 6*4. Individuals can select any one of these dimensions and start solving their puzzles.
Since the website is full to explore, there isn't anything critical related to it. The developers have taken great pain in organizing and updating the puzzles on a daily basis. In addition to that, the website doesn't have any flaw and this creates an overwhelming experience.
Jigsaw planet is not only safe for kids but adults too. You will never come across any harsh messages or videos interrupting your gameplay. Even, for instance, no objectionable pictures are shown on your screen. Therefore, children of all age groups can freely visit the site and solve as many puzzles as possible.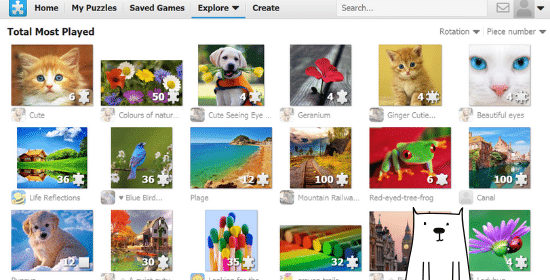 Beginners guide to using the website:
If you are a beginner in solving online puzzles, then you have come to the right place. www.jigsawplanet.com is full of remarkable choices that will surprise the kids and adults. You can not only choose between small puzzles but rather complicated ones too that require immense brainstorming. The website and the puzzles have been designed, keeping in mind the low level of mental activity that adults and kids go through. By solving puzzles on a daily or even weekly basis, you will notice a significant change in your concentration levels too.
If you are interested in understanding and deciphering puzzles, you should be aware of the steps on using the Jigsaw Planet website.
The website is accessible to anyone and everyone. There is no restriction available of any sort. Every time you visit the site, you will come upon a lot of extra and new puzzles that you have never seen before.
It is mandatory for players to have their own account in order to save the puzzles they have completed. If you want to re-attempt the puzzle again, you can directly solve it from your account.
Registering is easy and can be done with your personal email ID or phone number. A confirmation message on the same is available, so as to take care of your safety. No kind of privacy breach is related to the website. If you feel that your information is mishandled at any point in time, you may report to the concerned authorities.
Once you have completed the fundamental steps, it is time for you to pick up your favorite puzzle and begin solving them. You may find the puzzle in a haphazard way in the beginning. All you have to do is to drag the individual pieces one by one and place them in the right place. If the piece doesn't seem to be right, you can always change and go for another one.
The best part of playing and solving puzzles from this site is its wide availability of interesting puzzle collection. You never know when time flies by when solving puzzles with Jigsaw Planet.

How is the website useful for classrooms?
The website, www.jigsawplanet.com, instills a sense of confidence in every manner possible. The world of Jigsaw Planet is not only interesting but revolves around the fascination of solving critical and easy puzzles. That is why; kids are more drawn to solving puzzles because of their motivating and exciting nature. It is one of the best games that can enable your child to learn more. Apart from random puzzle formats, there are featured ones available too. Children can come across a wide variety of themes, from Disney princesses to cars, etc.
Therefore, taking steps to feature the website of Jigsaw Planet in all classrooms drives the children towards positive thinking. Solving puzzles online can further lead them to solve puzzles in real life. Specific hours can be allocated to the children, where they can access the website and play as much as they can. Hence, the willingness to start cracking the mystery behind puzzles starts in your classroom with Jigsaw Planet. If you enjoyed this article be sure to check out our other articles here.